Home Theater PC (HTPC)

Here, i want to present my HTPC which i have built in 2010.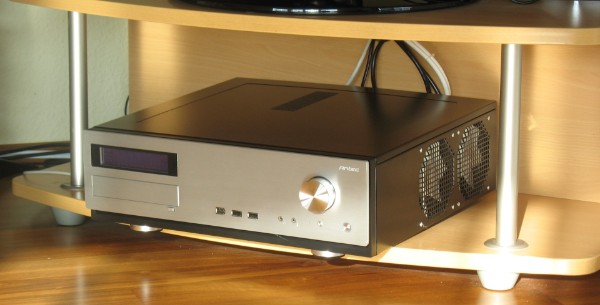 The requirements for the system have been:
satellite twin tuner for viewing and recording a program at the same time
capable of handling free HD programs (HD+ not necessary)
HDMI connection for picture and sound to the TV. Output of full HD: 1080p
remote control
quiet!
big harddisk for recordings
DVD drive (burner)
pretty case for the living room
runs Linux for maximum flexibility
This device replaces the previous satellite receiver with harddisk completely (it was very good, but only capable of SD and did have only SCART connectors).
In addition the DVD player was now superflous. Since it is a full-fledged Linux PC, you can surf the internet and do other things with it, like reading emails, without restrictions.
For the software i decided to use MythTV which has all the features that i wanted and it is being actively developed. It runs on Linux, so there are no licence fees and you don't have artificial, software based restrictions. Apart from that i know Linux very good. I did accept that this would require much work to configure the software.
More information about this can be found on the following pages: